Attic red-figure
Myson's 'Croesus on pyre' amphora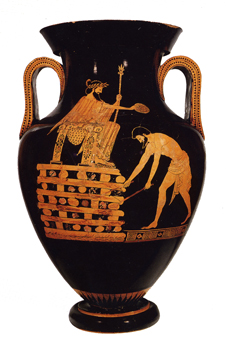 Photograph: M.Tiverios, Elliniki Techni
Museum: Paris, Louvre
Size: 58.5cm. (amphora, Type A)
Function: storage and display
Technique: red-figure
Style: an unusual style that anticipates the 'Mannerists' that begin with the Pan Painter and continue through the 5th c.
Subject/s: Croesus (named Kroisos), king of Lydia (c. 560-540), sits, enthroned – garlanded with laurel, holding his sceptre and making a libation from a phiale - on a high pyre stoked by his servant (named Euthymos).  A friend of the Greeks, the story goes that when the Persians overthrew him he prepared for death but Apollo saved him. B. Theseus abducts the Amazon queen Antiope, attended by his friend Perithoos. Her exotic 'eastern' dress is contrasted with their Greek dress and armour.
Date: early 5th c.
Analysis: large size, careful potting and painting, and 'frameless design' (like the Berlin Painter's) indicate this is a special piece. The mythological scene on the reverse is eastern, but the image of Croesus on the pyre is an historical event that happened some decades before the vase was painted. Both scenes involve the east and they were painted while Athens was threatened by invasions from Persians.