Attic red-figure
Pan Painter's name vase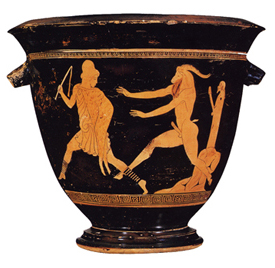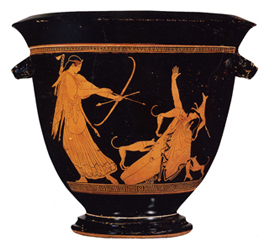 Photographs: M.Tiverios, Elliniki Techni
Museum: Boston, Museum of Fine Arts
Size: 37.1cm. (bell-crater)
Function: convivial
Technique: red-figure
Style: Mannerist
Subject/s: A. The goat-god Pan, with human body, billy-goat's head, feet and tail, extends human hands towards the young goatherd, wearing a woolly cap, animal skin over his tunic, and boots. With 'choreographed' steps they glide past a woodland herm on a rock. B. Choreography becomes even more theatrical: a tall gangly Artemis, with tiny deer-skin and quiver case over her shoulders, drops back to fire an arrow into Aktaion who falls back dramatically seemingly unaware that he has a sword; the effect of recession is enhanced by patterned boots that seem to fade into the background). His lean hounds with big jaws and tiny eyes tear at his flesh boldly exposed by the slipping mantle.  
Date: early-mid 5th c.
Analysis: bold designs on a finely made shape are hallmarks of the Pan Painter as a 'grand' Mannerist; notice Artemis's small, impossibly long torso and limbs, and 'archaic' pose and dress. The Aktaion story was told by Stesichorus in the 6th c., Pan was celebrated from the early 5th in recognition of his help routing the Persians.