Attic red-figure
Berlin Painter's name vase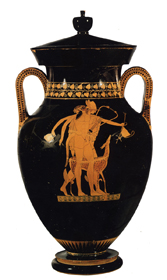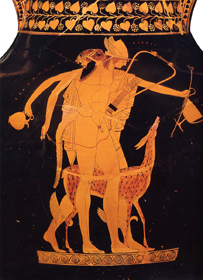 Photograph: M.Tiverios, Elliniki Techni
Museum: Berlin, Staatliche Museen
Size: 69cm. (amphora of Type A with lid preserved; unusually painted glossy black inside)
Function: storage and display
Technique: red-figure
Style: a careful and highly structured style that leads on to the classical Achilles and Phiale Painters.
Subject/s: A. Hermes (named) with jug and large kantharos, satyr (named Oreimachos) with barbiton and plectrum, and fawn, overlapping and radiating their limbs in a sophisticated design that fills the great black space (there are no panels, only minimal pattern bands). B. A single satyr (named Orochares), leaning forward towards the kantharos held it the right hand. The left holds a barbiton; the tail is arched. 
Date: early 5th c.
Analysis: large size, fine potting and painting, unusual radiating design on black vase with minimal, but unusual, patterns, and naming of the satyrs suggest a very special piece. Exported in antiquity to northern Italy.