Attic red-figure
Eretria Painter's name vase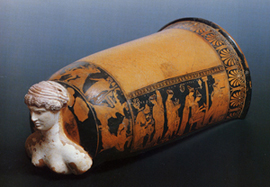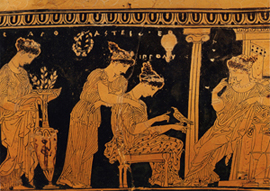 Photograph: M.Tiverios, Elliniki Techni
Museum: Athens, National Archaeological
Size: 29cm., length (onos/epinetron)
Function: protect the thigh in wool working
Technique: red-figure with a moulded female head (white with gilding and added colour)
Style: later classical
Subject/s: A. Alcestis (right) the bride (named), more heavily draped and bejewelled than the other women, leans seductively against a couch with 'embroidered' patterns inside her house. They – also named to elevate the occasion to a higher sphere – fill the figure-decorated wedding vases – a loutrophoros and two lebetes gamikoi – with 'flowers'. B. Aphrodite (left), seated with her feet resting on a stool and holding a wreath, is attended by personifications of marital bliss. Around the 'knee' Peleus pursues Thetis– another famous love story. 
Date: later 5th c.
Analysis: the feminine shape and stories and the unusually fine decoration on a functional shape suggest a special vase to celebrate a wedding. It was probably deposited in a grave as an heirloom of the bride.