Other shapes
The majority of Athenian painted pottery shapes can be classified under the few headings employed here. There are however some that do not fit so neatly, and these may be grouped together, if only to give a flavour of the range of forms outside the standard core. A selection includes the following: lekanis/lekane, plate and epinetron.
Other painted shapes include:
bobbins
eggs
louteria
lydia
plaques
phormiskoi
stands
Plate
Painted plates tend to be common only in the sixth century. Examples with holes drilled into the rim were suspended for display, probably in a religious or funerary context. Pinax (pl. pinakes) is the Greek term, although this is also used for planks or wooden boards, such as those that carry wall-paintings.
From the late fifth-century, 'fish-plates' occur in the Athenian repertoire. They stand on a low foot and the interior slopes gently towards a shallow central depression. They are named after decorated examples, which reveal their use. There are many examples from South Italy as well; the Athenian can be distinguished by the depiction of the fish with their bellies towards the rim, whereas those from South Italy are rendered with the bellies facing inwards.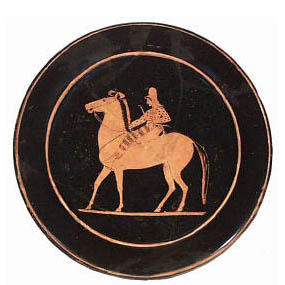 Lekanis/lekane
Both lekanis (pl. lekanides) and lekane (pl. lekanai) refer to low bowls with two horizontal handles and a broad low foot. The handles are regularly ribbon-shaped, a form that suggests a prototype in another material. The application of the Greek terms lekane and lekanis is not entirely clear, and modern usage varies. In general, the lekane is taken to be lidless and often undecorated, whereas the lekanis is shallow, lidded and often decorated. Examples of the latter appear in marriage-scenes and other scenes involving women, and are themselves regularly decorated with scenes of marriage.
Epinetron
One of the more unusual painted pottery shapes, the epinetron (pl. epinetra) is not a pot, but was placed over the thigh during the preparation of wool for weaving. Examples are decorated in black-figure and later in red-figure.