Attic red-figure
Douris's 'school cup'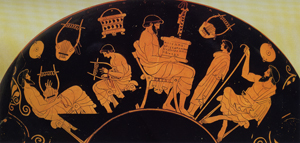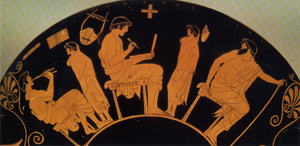 Photograph: M.Tiverios, Elliniki Techni
Museum: Berlin, Staatliche Museen
Size: 28.4cm diameter (cup)
Function: convivial
Technique: red-figure
Style: 'academic'
Subject/s: inside an athlete removing his sandals, with the inscription Douris egrapahsen. Outside A/B: boys at school with their teachers. A. Bearded barbiton player seated on a stool with a boy playing his; a cup and barbtion hang above. Bearded man holding a book roll open so that we can read it is joined by another, seated frontally with legs crossed, and a standing boy. Basket, pipes case, barbtion and cup hang above. B. Seated older boy shows a younger how to play the pipe, another shows his charge how to hold the writing kit, and an older seated man turns around to watch. Barbiton, writing case, etc., hang above. Around the rim on each side Hipodamos  is called kalos.
Date: early 5th c.
Analysis: the seated older men now assume more realistically relaxed poses than their Pionner-style predecessors. 'Boys at school' is a rare scene; this is one the early visual records of the spread of literacy in early 5th c Athens. Douris's letters are as finely drawn as his figures. These have Achilles invoking the Muses by the banks of the Trojan river Skamander.