Attic red-figure
Kleophrades Painter 'Sack of Troy' hydria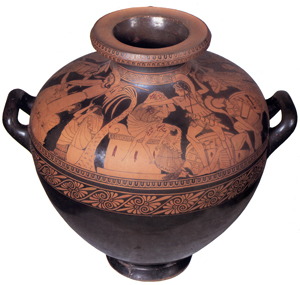 Photograph (above): J. Boardman, La ceramique antique
Photographs (below): M.Tiverios, Elliniki Techni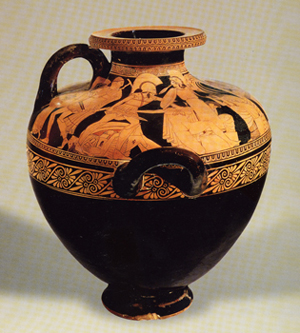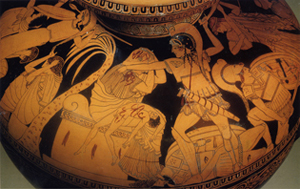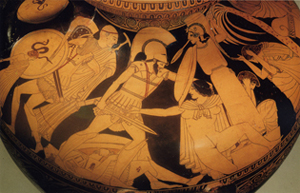 Museum: Naples, Museo Nazionale Archeologico
Size: 31.8cm. (hydria of kalpis type = rounded shoulder)
Function: water pot
Technique: red-figure
Style: expansive style with emotionally charged single figures and groups
Subject/s: Sack of Troy encircles the shoulder. From handle left to right: Aeneas flees, with his father Anchises on his back and his son Askanios leading the way. Casandra holds on to the Palladion, beseeching Ajax not to harm her. Priam, who took refuge at an altar, holds the body of Astyanax, already killed by Neopotolemos, on his lap. A woman attacks with a pestle, others mourn.
Date: early 5th c.
Analysis: a multi-figure narrative encircling the shoulder is very unusual on this shape. The detailed rendering of the Sack of Troy was painted shortly after the Persians had invaded Athens and sacked the Acropolis: a contemporary event is associated with the mythical past.