Achilles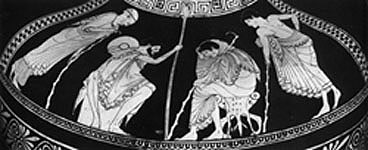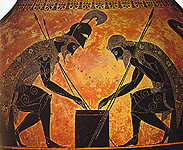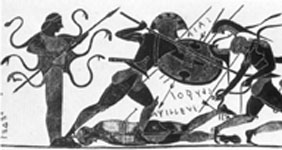 Greek
hero
, son of
Peleus
and
Thetis
, who fought in the siege of
Troy
and was killed there. His main adversaries were various sons of the Trojan king
Priam
, including
Hektor
, whom he killed in revenge for the death of his close companion
Patroklos
. He killed the young prince
Troilos
in ambush, the
hero
Memnon
, son of
Eos
, and appears in several other duels. He was said to have fallen in love with the
Amazon
Queen
Penthesileia
as he killed her. In archaic art he is shown playing dice with
Ajax
at
Troy
, ignoring the call to battle.
Agamemnon
takes from him his slave
Briseis
, whence his wrath and the subject of
Homer
's Iliad; he is shown mourning her loss, and meeting the Mission led by
Odysseus
to try to persuade him to return to the battlefield. This he does, after his companion
Patroklos
is killed wearing Achilles' armour. He is re-armed by his mother
Thetis
, and kills
Hektor
.
Priam
comes to him to plead for the return of
Hektor
's body, which Achilles had dragged around the city walls behind his chariot. His vulnerable heel was hit by
Paris
' arrow, killing him; his body was rescued from the field of battle by
Ajax
, and ownership of his divine armour became a cause of dissent between
Ajax
and
Odysseus
. He was the archetypal tragic
hero
of antiquity: proud, self-assertive, but doomed. Before
Troy
he was placed with Lykomedes on Skyros, and dressed as a girl; he was summoned thence to war by
Odysseus
- this is a subject for later art.
Above left: The Mission. Detail from an Athenian red-figure clay vase, about 500-450 BC. Munich. Staatliche Antikensammlungen 8770 © Staatliche Antikensammlungen Licence Plate 11 UK 1007 104
Above middle: Achilles and Ajax. Detail from an Athenian black-figure clay vase, about 575-525 BC. Rome, Museo Gregoriano Etrusco Vaticano 16757 © Museo Gregoriano Etrusco Vaticano
Above right: Drawing, formerly collection of Pembroke-Hope. Lost. Rumpf, ChalkVas Pl.12 © Rumpf.