Attic red-figure
Achilles Painter name vase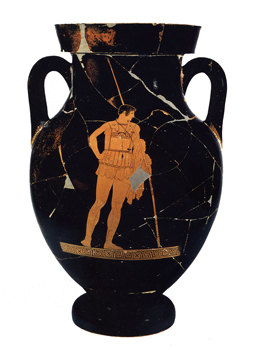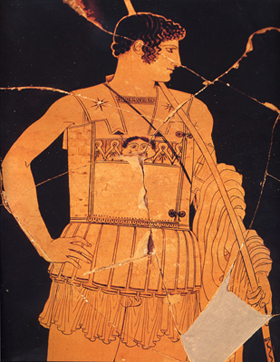 Photographs: M.Tiverios, Elliniki Techni
Museum: Vatican
Size: 62cm. (amphora, Type B; late example of the shape)
Function: storage and display
Technique: red-figure
Style: 'classical'
Subject/s: A. the hero Achilles, wearing a fine leather corselet, unusually embellished with a gorgoneion, over a tunic, unusually transparent, and a scabbard, holds an exceedingly long spear over his extended arm, wrapped into a voluminous short mantle. B. a woman wearing a peplos holds a jug and a phiale.
Date: mid 5th c.
Analysis: the single figure, standing on a truncated unusual pattern band and holding accoutrements show how the Achilles Painter took the tradition of the Berlin Painter into the time of Perikles's Athens. Achilles's carefully studied pose recalls that of Polykeitos's  Dopryphoros,  made at about the same time. Achilles's hairstyle is like Apollo's in the west pediment of the Temple of Zeus at Olympia.