Attic black-figure
Sophilos's dinos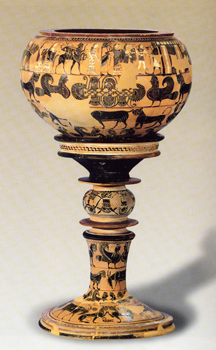 Photographs: M. Tiverios, Elliniki Techni
Museum: London, British Museum
Size: 71cm (dinos and stand)
Function: convivial
Technique: black-figure
Style: Early black-figure
Subject/s: Wedding of Peleus and Thetis, attended by the gods, some on foot, others in chariots, encircles the shoulder. Below, and on the stand, are animal friezes. 
Date: early 6th c.
Analysis: similar in shape and design of decoration to the Gorgon Painter's dinos in Paris, but with one major theme encircling the shoulder. Sophilos has signed as painter. The impressive display piece was probably exported to northern Italy in antiquity.