Attic black-figure
Nessos Painter's name vase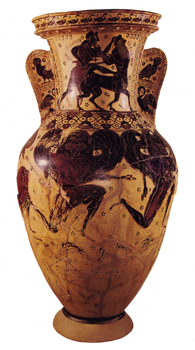 Photograph: M. Tiverios, Elliniki Techni
Museum: Athens, National Archaeological
Size: 1.22m (neck-amphora)
Function: funerary
Technique: black-figure
Style: Early black-figure
Subjects: Herakles fights Nessos (neck); two Gorgons flee Perseus (not shown). A third, already decapitated, falls forward. The speed of the Gorgons' escape is indicated by their tightly flexed limbs and by dolphins – indicating the sea – swimming in the opposite direction.
Date: late 7th c.
Analysis: size, solid handles, and discovery in the Kerameikos cemetery confirm a funerary use. Animals (mouth rim, handles), Corinthian-style florals (shoulder) and 'rosettes' (neck and body) confirm that it was made 'early' in Attic black-figure under Corinthian influence. The export of the display piece to northern Italy confirms the importance of both trade and 'Greek custom' among the Etruscans. The stable technique (careful incision and added red) and the naming of Herakles and Nessos (Netos) suggest confident use of the black-figure technique.