Attic red-figure
Xenophantos's signed squat lekythos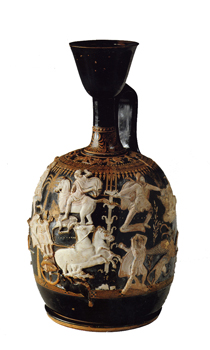 Photograph: M.Tiverios, Elliniki Techni
Museum: St. Petersburg, State Museum of the Hermitage
Size: 38.5cm (squat lekythos)
Function: special funerary gift?
Technique: red-figure with figures in relief, painted white with gilded details (body) or gilded.
Style: ornate and exotic
Subject/s: Body: Persians hunt boar and stag, but also fantastic animals griffin and lion-griffin, on foot, on horseback and in two-wheeled chariots. A palm and an acanthus pillar supporting a tripod stand in the background. Shoulder: three scenes – Nike driving a two-wheeled chariot with a Persian archer beside, Gigantomachy (Athena, Herakles, Giant) and Centauromachy. Above, in a zone marked off by raised ridges Xenophantos the Athenian made this.
Date: early 4th c.
Analysis: the very large size, many figures, much white and gilt, reveal a very special piece. Found at Kerch, ancient Pantikapion, it may have been a funerary gift. Although the addition of figures in relief to the surface of the vase has a long tradition in Athens, it is never common, and never as ornate as this.