Nike (Roman Victoria)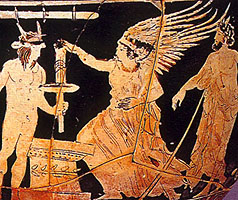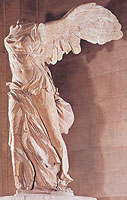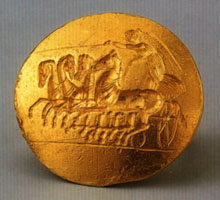 Personification of Victory, shown as a winged woman. She is often shown decorating battle trophies or attending successful gods, heroes and mortals.
Above left: Detail from an Attic red-figure clay vase, about 430-420 BC. Salonika Museum, 7757. © Salonika Museum Licence Plate 11 UK 1007 172
Above middle: Parian marble statue Nike of Samothrace. c.200 BC. Paris. Musée du Louvre. © Musée du Louvre Licence Plate 11 UK 1007 173
Above right: Gold ring with Nike driving a four-horse chariot, about 400-350 BC. London, British Museum GB 1842.7-28.134; from the Thomas Burgon collection. © British Museum.