Gandhara Connections Project Assistant Kay Rienjang reports on the recent workshop, 'Problems of Chronology in Gandharan art:
Our first Gandhara Connections workshop began with the long-standing question at the heart of studies in Gandharan art and culture: how to make sense of its chronology. The successful workshop gathered international specialists in different areas of Gandharan studies to pull out ideas and engage in the interdisciplinary discussion. Our lecture room was bustling on both days of the event, and thanks to the live-stream webcasts, those who could not physically join us could follow the presentations and engage in real-time discussion remotely. We were delighted to be joined 'virtually' by viewers abroad, including a group of researchers on the Chinese project 'Hellenistic Civilization and the Silk Road', who watched from Nankai University in Tianjin.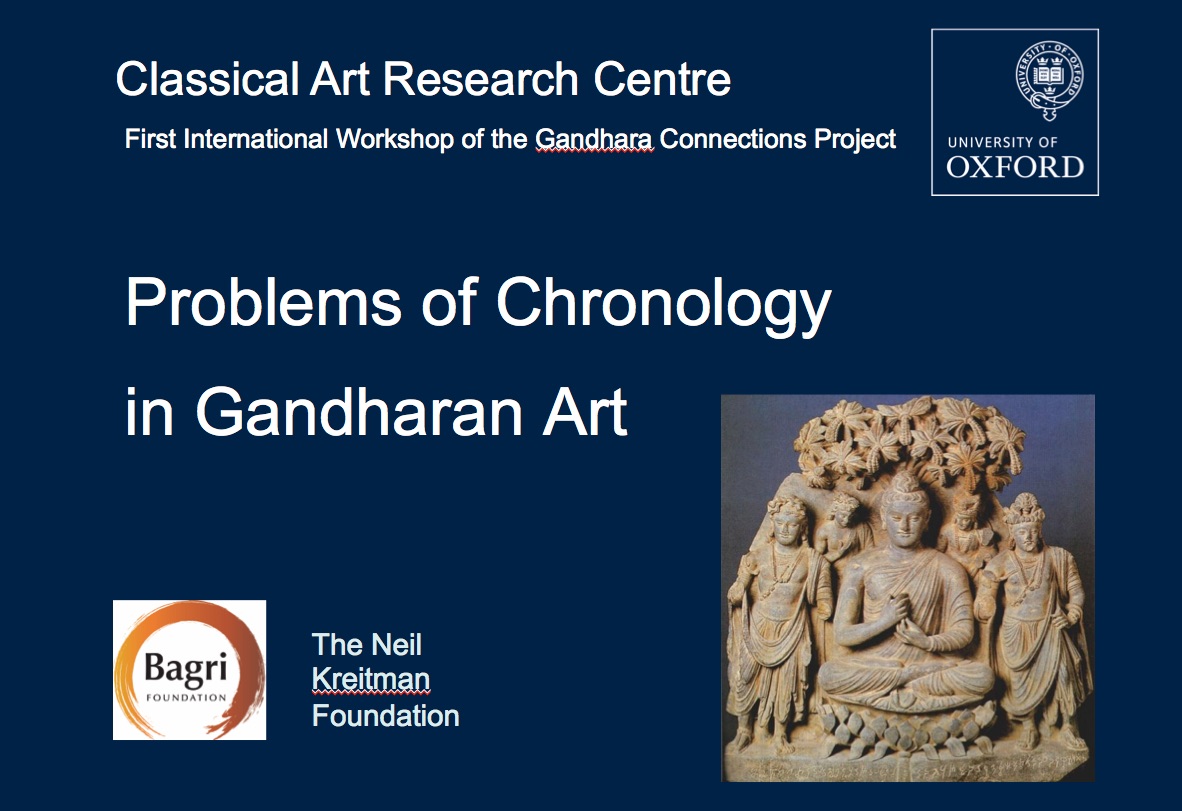 The workshop started with a talk by Joe Cribb (formerly Keeper of Coins and Medals at the British Museum), who reviewed the numismatic evidence to strengthen Harry Falk's proposal that the Kushan ruler Kanishka I's first year started in AD127. Although still opened to debate, this affirmation is the result of detailed and systematic analysis of numismatic evidence, in combination with epigraphic sources and Falk's astrological reasoning. A wealth of specific and circumstantial evidence now supports this date, which has important ramifications for Gandharan art. This numismatic presentation was followed by an art-historical talk by Monica Zin (Saxon Academy of Sciences), who drew attention to the artistic similarities and differences between Gandharan and Andhra art in India and the possible chronology that these artistic relationships may suggest.
The afternoon session started with exciting archaeological contributions. Our Pakistani colleague, Abdul Samad (Director of Archaeology & Museums for Khyber Pakhtunkhwa), presented recent archaeological work employing modern methods in the province, and particularly fieldwork at the Buddhist site of Bhamala at Taxila. The C-14 dating of the wooden cores inside some terracotta sculptures from this site provide a date of mid third to early fifth century AD to add to the chronology of the site. Our Italian colleagues, Anna Filigenzi (L'Orientale, Naples) and Luca Olivieri (Italian Archaeological Mission in Pakistan) gave a paper (read by Peter Stewart) on their discoveries at the urban site of Barikot, and two nearby Buddhist complexes, Gumbat and Amluk-Dara in Swat. The artefacts unearthed from these stratified sites potentially provide benchmarks for the chronology of certain types of Gandharan art. This presentation also highlighted the main change that occurred at the Buddhist complex of Butkara I, also in Swat, during the third century AD in the taste, techniques and materials of the buildings and their associated sculptures.
Our last presentation of the first day was by Ciro lo Muzio (La Sapienza, Rome), who examined one of the most fascinating types of Gandharan art: toilet trays. Lo Muzio drew attention to the similarities in form, ornament and iconography between Gandharan toilet trays and some architectural sculptures on some of the earliest Buddhist monuments in India. His observation proposes the possible chronological correlation between the two artistic traditions if the re-assessment of the Sunga period, a period generally assigned to a large part of the early Indian monuments, to the first century AD is correct.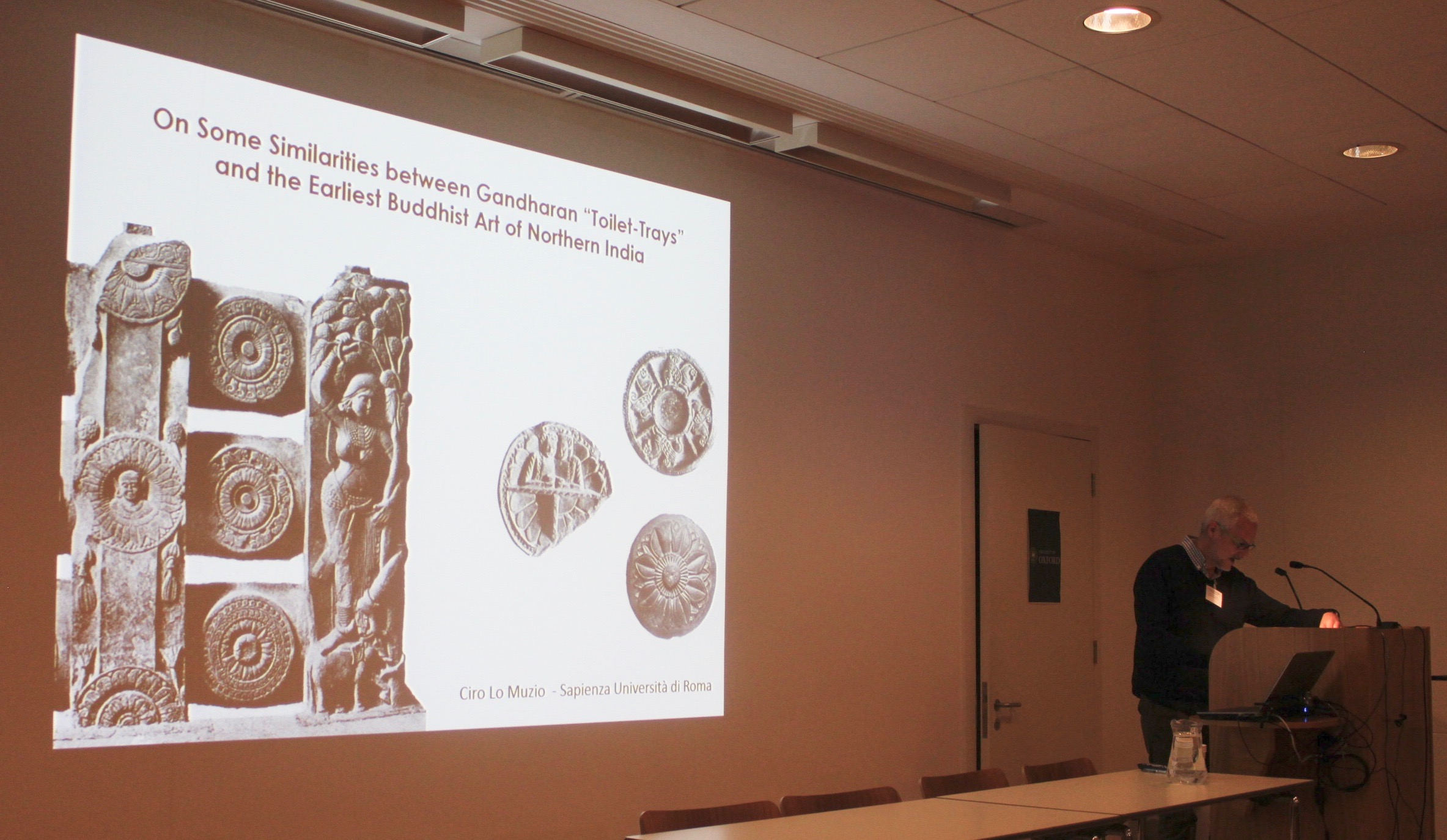 Ciro Lo Muzio talks about Gandharan toilet trays and their connections with Indian elements
The second day started off with an examination of stupa relic deposits in eastern Afghanistan and Dharmarajika Pakistan by Wannaporn Kay Rienjang (CARC). Rienjang presented the changing nature of stupa deposits through time and the possible decline in stupa relic deposit that may have coincided with the rise of popularity in the image cult during the period of the late Kushan. The next presentation was by a notable Gandharan epigraphist, Stefan Baums (Ludwig-Maximilians Universität München), who used his expertise to illustrate different methods for dealing with inscriptions found on various media of Gandharan art, and how they can help with the dating of these objects on which they were inscribed.
Engaging with epigraphy: Stefan Baums, Robert Bracey and Juhyung Rhi contemplating a date inscription on a work from Mamane-Dheri
Our afternoon session was resumed by Robert Bracey (British Museum). Bracey reminded us of the complexity involved in reaching a date for an Indian work of art related to the classical tradition. His example, an enigmatic Mathuran sculpture in the Cleveland Museum that incorporates classical, Indian, and Gandharan elements, poses many questions not only in respect to its date, but also its origin and authenticity. Complexity in the chronology of Gandharan art was explored further by Juhyung Rhi (Seoul National University), who examined the very limited numbers of dated Gandharan sculptures and related them to the boarder picture of chronology of Gandharan art. Like Robert Bracey, Rhi reminded us that the complexity does not only lie in the dates inscribed on these sculptures and the eras they belong to, but in many other interpetative problems. One of these is the diversity of workshops in different regions of Gandhara whose artistic traditions may have undergone different phases of developments although within the same timeframe.
Our workshop ended with Kurt Behrendt (The Metropolitan Museum of Art), who reviewed some aspects of important Gandharan sculptures known from particular sites, including their materials, sizes, iconography, and their re-contextualization. He examined these aspects in relation to those of the late sculptures from India and Central Asia, proposing that a large number of Gandharan sculptures actually belong to the 'later' phases of Gandharan chronology.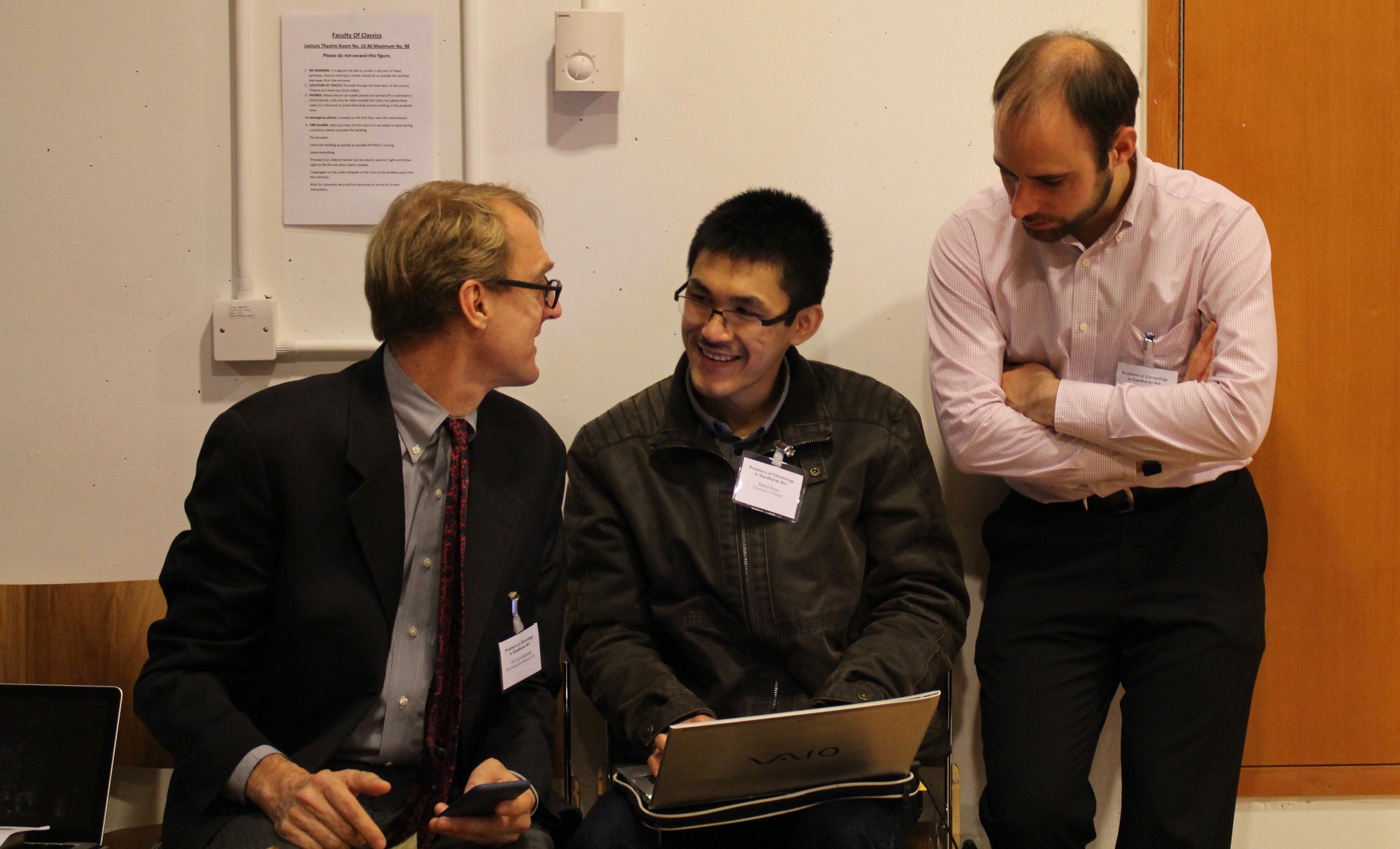 Our speaker, Kurt Behrendt and our team member, Giles Richardson, discussing live-streaming with our volunteer, Rahul Raza, who monitored comments and questions from remote viewers
Chronology, of course, remains a challenging topic. However, rather than contradicting each other, the complementary papers presented in this workshop highlighted a growing consensus both about the dating of Gandharan art and about new questions and problems that arise as we refine our understansing of chronology. Key issues were isolated and the thought-provoking presentations suggested ways forward for further multidisciplinary research on Gandharan art. The foundation was also laid for our second workshop, which is to come in a year's time, 'The Geography of Gandharan Art'.
Thank you again to all the contributors and the audience in Oxford, as well as our remote audience from different parts of the world (including Afghanistan, Pakistan, India, China, Thailand, Japan, the United States, and Canada). Don't miss the publication of our workshop proceedings which will be freely available online by early next year. We look forward to seeing you again in 2018!