One of the biggest obstacles to studying Gandharan sculpture is the loss of provenance – information about the archaeological origins of these works of art, as well as their biographies since they left the ground. This has resulted from a mixture of illicit excavation, the drift of found objects onto the antiquities market, and undocumented or poorly documented excavations in the colonial era (and since). Consequently, early photographs of discoveries are invaluable for documenting where Gandharan sculptures came from. We have a number of important collections of late nineteenth- and early twentieth-century photographs that record the artefacts, if not quite
in situ
, then at least in association with particular sites. The largest is a collection of several thousand photographs, many of them prints of old ASI (Archaeological Survey of India) images, held today in the British Library.
1
Smaller, important collections have been digitized by the Kern Institute in Leiden and London's Warburg Institute, for example.
2
Many of the sculptures shown in these photos are famous. A lot of them ended up in major museums in India and Pakistan, as well as the British Museum. But others are unaccounted for. Moreover, the provenance even of well known sculptures has sometimes been forgotten. Embedded in the antiquarian photographs is a trove of lost information about the origins of these important works.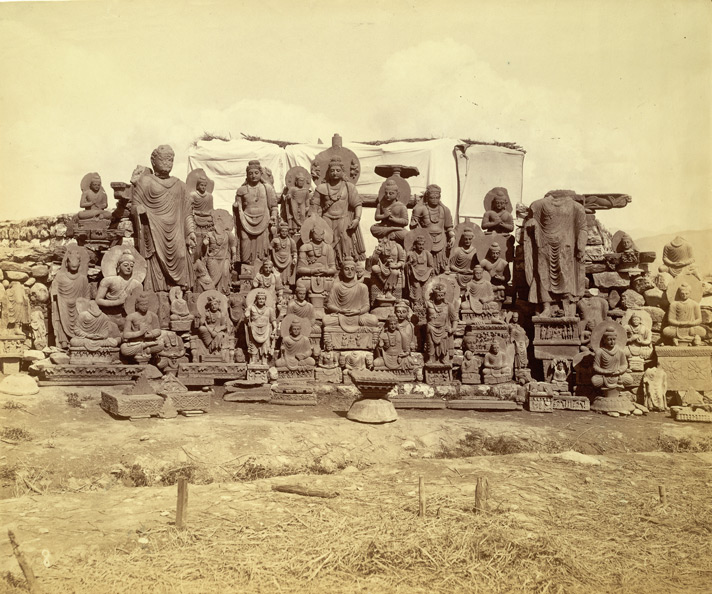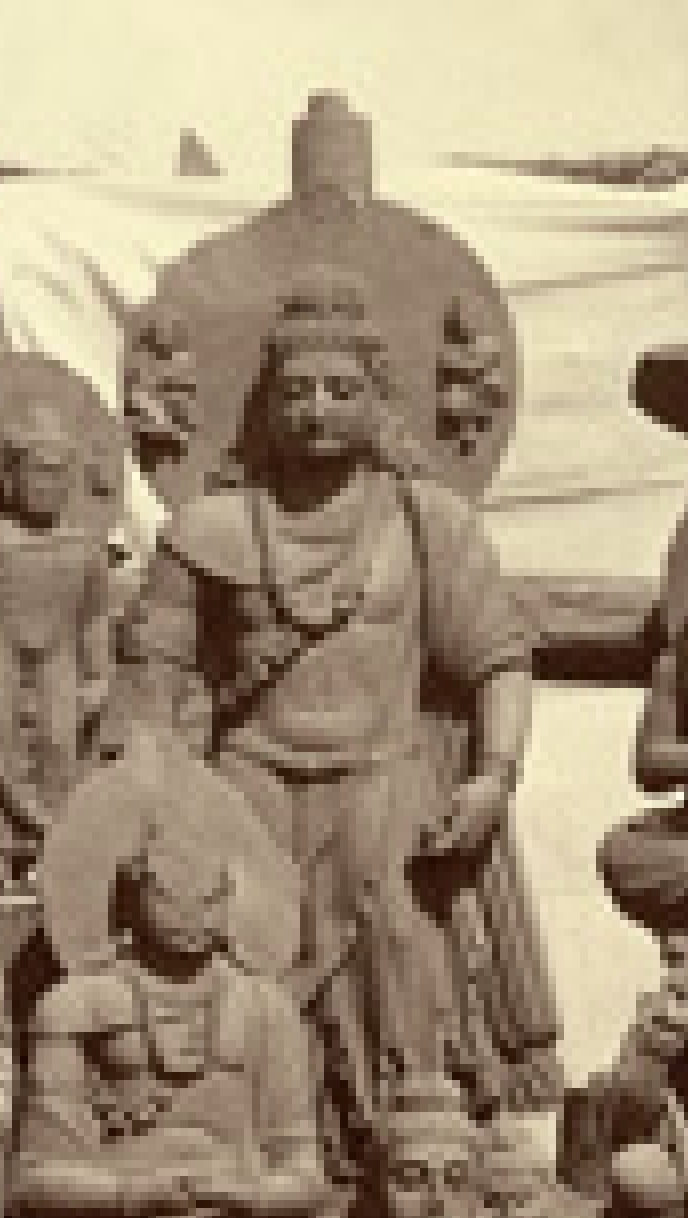 Figure 1. (a) Photograph of sculptures found at Loriyan Tangai, by Alexander Caddy, 1896. (b) Detail. (Photo: British Library.)
A much reproduced image preserved both in London and Leiden offers an illustration (Fig. 1a).
3
It is a huge group photo of Buddhist sculptures recorded at Loriyan Tangai in 1896 by Alexander Caddy. It can be hard to distinguish the Buddhas and bodhisattvas of various sizes, which once decorated stupas and shrines at the site, and which reproduce very conventional iconography over and over again. But one figure is a little more distinctive: a tall bodhisattva Maitreya in the middle of the back row, whose nimbus (halo) is unusually decorated with reliefs of worshipping bodhisattvas in profile (Fig. 1b).
It is enough to allow us to spot the figure in a crowd, or in the rooms of a museum. And so we find it, almost certainly, in the Patna Museum in India, albeit now lacking a face! The provenance of this imposing statue has been forgotten. Gupta's catalogue of the Museum says vaguely that the bodhisattva comes from the Swat Valley.
4
Francine Tissot, who used it as an example in her indispensable handbook
Gandhâra
, simple states: 'provenance unknown' (Fig. 2).
5
Thanks to Caddy, it is now known again. This is not a unique example. For instance, a provenance study completed in 2015 by Lubna Sen used British Library photographs to identify two Gandharan sculptures in the Indian Museum collection in Kolkata.
6
These historic images still have much more to tell us.
[Peter Stewart 12/8/2023]
Fig. 2 F. Tissot's drawing of the Patna sculpture.
[1] A small sample. Has been digitized so far:
https://explore.bl.uk/primo_library/libweb/action/dlSearch.do?query=any,contains,gandhara&vid=BLVU1&institution=BL&search_scope=LSCOP-WEBSITE&tab=website_tab
[2]
https://digitalcollections.universiteitleiden.nl/photography-kern
;
https://iconographic.warburg.sas.ac.uk/categories
[3]
https://www.bl.uk/onlinegallery/onlineex/apac/photocoll/g/019pho000001003u01042000.html
[4] P.L. Gupta,
Patna Museum Catalogue of Antiquities
(Patna: Patna Museum, 1965), 34, no. 33 (inv. 1325).
[5] F. Tissot,
Gandhâra
(2nd edn.) (Paris: Librairie d'Amérique et d'Orient), 199, pl. 23.3 and fig. 120.
[6] L. Sen, 'Exploring an integrated approach to re-assess and authenticate museum documentation: Case study of the Gandhara Collection of Indian Museum, Kolkata' (post-conference report for CIDOC 2015) https://cidoc.mini.icom.museum/archive/past-conferences/2015-new-delhi/ (consulted 11 August 2023).