T1200, DROMEUS VICTOR IN THE FOOT-RACE
Reference Number: T1200
Description: DROMEUS VICTOR IN THE FOOT-RACE
Inscription Greek: ΠΥΡΓΟΤΕΛΕΣ
Signature: Pyrgoteles
Literary Source Record: Pausanias
Current Collection: Prendeville, J.: Explanatory catalogue of the proof-impressions of the antique gems possessed by the late Prince Poniatowski and now in the possession of John Tyrrell, Esq. (1841)
Previous Collections:
Material: Cornelian
Comments: The signature is not visible on the impression or the original. Prendeville further describes 'He is here represented holding a garland before the statue of Minerva' p.772. The subject is after Pausanias, book vi. C.7.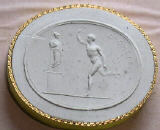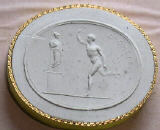 Link to this record using the address https://www.beazley.ox.ac.uk/record/CB16D48A-327E-4F73-916C-C50991A91E7F