T91, PLUTO CARRYING OFF PROSERPINE IN A QUADRIGA
Reference Number: T91
Description: PLUTO CARRYING OFF PROSERPINE IN A QUADRIGA
Inscription Greek: ΑΠΟΛΛΟΝΙΔΟΥ
Signature: Apollonides
Literary Source Record: Homeric Hymn to Ceres
Current Collection: Bonhams, London
Previous Collections:

Catalogue des pierres graves antiques de S.A. le Prince Stanislas Poniatowski ([1830?]-1833)
Christie's, London
Prendeville, J.: Explanatory catalogue of the proof-impressions of the antique gems possessed by the late Prince Poniatowski and now in the possession of John Tyrrell, Esq. (1841)
Private Collection

Material: Cornelian
Comments: The gem is not listed in the 1839 Christie's sale catalogue - probably it was thought it duplicated the previous entry (T90, lot 355). The sale is undoubtedly the source in which it was acquired by Tyrrell.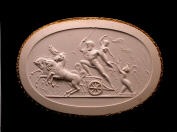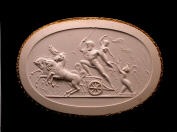 Link to this record using the address https://www.beazley.ox.ac.uk/record/66A9D65C-C429-4512-BE5D-2F23CD20E5A2