T90, PLUTO CARRYING OFF PROSERPINE
Reference Number: T90
Description: PLUTO CARRYING OFF PROSERPINE
Inscription Greek: ΑΠΟΛΛΟΝΙΔΟΥ
Signature: Apollonides
Literary Source Record: Claudian
Ovid
Current Collection: Unknown
Previous Collections:

Catalogue des pierres graves antiques de S.A. le Prince Stanislas Poniatowski ([1830?]-1833)
Christie's, London
Prendeville, J.: Explanatory catalogue of the proof-impressions of the antique gems possessed by the late Prince Poniatowski and now in the possession of John Tyrrell, Esq. (1841)
Catalogue of A Rare Collection of Antique and Medieval Gems, (...) for the Charity Organization Society (...) of NY; Tiffany, 10.-16.3.1902

Material: Cornelian
Comments: CHRISTIE'S: CHALCEDONY. There seems to be some confusion in the 1839 Christie's catalogue about T90 and T91: only one entry was made although both are listed in the pierres gravees and were bought by Tyrrell.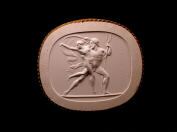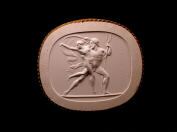 Link to this record using the address https://www.beazley.ox.ac.uk/record/33964D2B-F4C6-4D31-B2DE-29F73AE23167