T542, DIRKE DRAGGED ALONG BY THE BULL
Reference Number: T542
Description: DIRKE DRAGGED ALONG BY THE BULL
Inscription Greek: ΓΝΑΙΟΣ
Signature: Gnaios
Current Collection: Victoria and Albert Museum, London
Previous Collections:

Catalogue des pierres graves antiques de S.A. le Prince Stanislas Poniatowski ([1830?]-1833)
Christie's, London
Prendeville, J.: Explanatory catalogue of the proof-impressions of the antique gems possessed by the late Prince Poniatowski and now in the possession of John Tyrrell, Esq. (1841)
Monson, (Lord)
Christie's, London

Material: Sardonyx
Comments: SET IN GOLD FILIGREE MOUNT. TYRRELL: CORNELIAN. Glass impression in a private collection, curated by Alenka Simončič, National Gallery of Slovenia.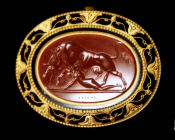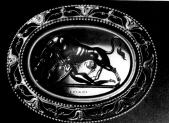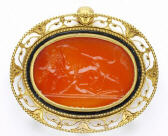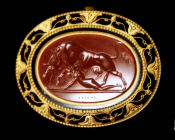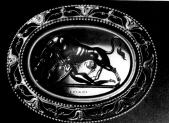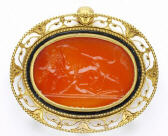 Link to this record using the address https://www.beazley.ox.ac.uk/record/31A5B167-AC8D-4899-8BCA-D7E7B71BD558