Attic red-figure
Pronomos Painter's name vase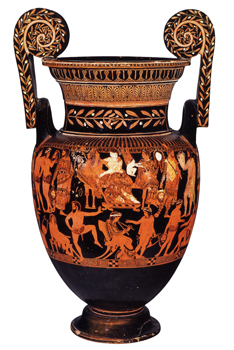 Photograph: Lissarrague, Greek Vases: the Athenians and their images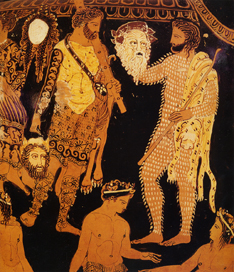 Photograph: M. Tiverios, Elliniki Techni
Museum: Naples, Museo Nazionale Archeologico
Size:  75 cm (volute-crater)
Function: convivial, display
Technique: red-figure with added white paint, dilute washes
Style: 'ornate'
Subject/s: A. In the presence of Ariadne and Dionysos, reclining on a kline with a small winged Himeros, members of the chorus, masked or holding masks, join a pipes player, Pronomos, seated 'below'. Above, to the right of the couple, 'Herakles' talks to 'Papposilenos' – Pappa Satyr . Below a nude youthful man sits on a stool, Demetrios, the author of the satyr play to be performed, holding the text  in a 'book roll'. B. Dionysos holding a lyre and Ariadne a blazing torch glide through a rocky terrain peopled by satyrs in dance poses, maenads, a panther and Eros holding cymbals.
Date: 400
Analysis: very large size, ornate decoration and added colour make this Athenian vase look like a precursor of later South Italian Ornate Apulian. It was found in southern Italy, at Ruvo, not far from Taras (Taranto).
Inscriptions identify gods, heroes, Athenians, poet, pipes- and lyre-player (historical figures). The event is probably a victory in a dramatic contest that has been elevated to a higher sphere by the presence of the god Dionysos. Since some actors hold tiaras, the play may be about Hesione, daughter of Laomedon, king of Troy, from the sea-monster.