8. Boats
This is a common setting for various figures and groups, and for the most part the scarabs with boats are listed according to whom they carry. I list here a few which are more indeterminate. Others are 2E; 2/X6, 8, 9; 6/71, 72, X9; 11/27, 79, X4, 6, 30, 33, 35; 12/23, 29-31, 35; 15/45; 17/62.
West
8/1 Carthage no. 582. BL. Two apes with horned disc crowns on a boat with disc and floral finials; beyond, a palm tree. II/VI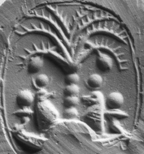 Other materials
8/X1 Cagliari 19730, from Tharros. Bresciani 18, pl. 1b (Acquaro). Agate scaraboid pierced across short axis. BL. Unfinished. Boat with flower finials; winged disc above; the centre empty.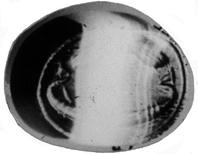 8/X2 From Utica. BullArch 1926, 226, T.3. Cornelian. 'A ship, with a Phoenician palmette and star'.
No image available