213822, ATHENIAN, Paris, Cabinet des Medailles, 357
Vase Number: 213822
Fabric: ATHENIAN
Technique: RED-FIGURE
Shape Name: AMPHORA, BELLY
Date: -475 to -425
Attributed To: ACHILLES P by BEAZLEY
Decoration: Body: DIONYSOS, WITH STAFF AND KANTHAROS, MAENADS WITH STAFFS, THYRSOI, TYMPANON, SNAKE AND TEARING DEER, ONE PLAYING PIPES, PIPESCASE, SATYR WITH TORCH AND THYRSOS
Current Collection: Paris, Cabinet des Medailles: 357
Publication Record: Auberger, J., Manger en Grece classique, La nourriture, ses plaisirs et ses constraintes (Quebec, 2010): 207 (PART)
Beazley, J.D., Attic Red-Figure Vase-Painters, 2nd edition (Oxford, 1963): 987.2 , 1676
Beazley, J.D., Attische Vasenmaler des rotfigurigen Stils (Tübingen, 1925): 371.2
Beazley, J.D., Paralipomena (Oxford, 1971): 437
Boardman, J., Athenian Red Figure Vases, The Classical Period (London, 1989): 61, NO.1 (PART)
Burn, L. and Glynn, R., Beazley Addenda (Oxford, 1982): 151
Buschor, E., Griechische Vasenmalerei (Munich, 1914): 194
Carpenter, T.H., Dionysian Imagery in Fifth-Century Athens (Oxford, 1997): PL.44B (PART)
Carpenter, T.H., with Mannack, T. and Mendonca, M., Beazley Addenda, 2nd edition (Oxford, 1989): 311
Furtwängler, A. and Reichhold, K., Griechische Vasenmalerei (Munich, 1904-32): PL.77.1 (PART OF A), II, 92
Heinemann, A., Der Gott des Gelages. Dionysos, Satyrn und Mänaden auf attischem Trinkgeschirr des 5. Jahrhunderts v. Chr. (Berlin, 2016): 496, FIG.342 (A AND B)
Isler-Kerenyi, C., Dionysos in Classical Athens. An Understanding through Images (Leiden and Boston, 2014): 94, FIG.47A-B (PARTS OF BD)
Journal of Hellenic Studies: 34 (1914) 192
Lexicon Iconographicum Mythologiae Classicae: VIII, PLS.530-531, MAINADES 38
Monuments et memoires publies par l'Academie des Inscriptions et Belles-Lettres: 7 (1900-1901) 14-15, PLS.2-3
Oakley, J.H., The Achilles Painter (Mainz, 1997): 53, FIGS.2, 26A-B, PLS.2B, 3-4 (INCLUDING PROFILE)
Pfuhl, E., Malerei und Zeichnung der Griechen (Munich, 1923): FIG.523
Revue des Etudes Grecques: 130 (2017) 130, FIG.4 (COLOUR OF A)
Robertson, C.M., The art of vase-painting in classical Athens (Cambridge, 1992): 196, FIG.206 (PART)
Schöne, A., Der Thiasos, Eine ikonographische Untersuchung über das Gefolge des Dionysos i.d. att. Vasenmalerei des 6.u.5. Jhs.v.Chr. (Goteborg,1987): PL.29.1 (A)
LIMC ID: 4934
Image Credits: FURTWANGLER-REICHHOLD DRAWING: Please consult with Williams College Special Collections staff and Williams College Visual Resources Center staff, regarding questions about publishing and accessing materials from Williams College Special Collections. Researchers are responsible for handling any copyright issues that may be associated with collections and materials.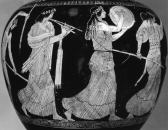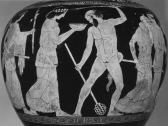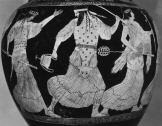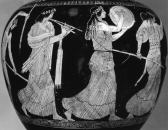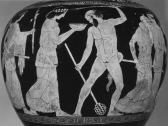 Link to this record using the address https://www.beazley.ox.ac.uk/record/E0071162-13F3-4B9B-8C1D-2723E2EFC545