253, ITALY, ROME, ROME, PORTA MAGGIORE
Record Number: 253
Material: PHOTOGRAPHIC PRINT
Site: ITALY, ROME
Monument: ROME, PORTA MAGGIORE
Image Date: 1850 - 1871
Photographer: MACPHERSON, ROBERT
Comments on Photo: 37.1 x 28.3 cm. ALBUMEN PRINT, LISTED AS NUMBER 26, 'PORTA MAGGIORE AND THE TOMB OF THE BAKER EURSACES' IN MACPHERSON'S PHOTOGRAPHS, ROME 1871. BLIND STAMPED R. MACPHERSON ROME 1.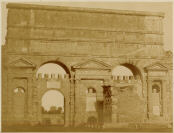 Link to this record using the address https://www.beazley.ox.ac.uk/record/DE3B6AF1-5E0D-4C0C-ADB2-C546D3E7C406