1799, ITALY, VENICE, ST. MARK'S, BYZANTINE CAPITAL
Record Number: 1799
Title on Photograph: AKD 8[?]8. BYZANTINE CAPITAL FROM S.MARK'S VENICE
Material: GLASS SLIDE
Site: ITALY, VENICE
Monument: ST. MARK'S, BYZANTINE CAPITAL
Image Date: - BANISTER FLETCHER'S 'A HISTORY OF ARCHITECTURE....' FIRST PUBLISHED IN 1896. ( AND NEWTON & CO. WAS AT 3, FLEET ST. FROM 1851 TO 1913).
Comments on Photo: 8.2CM X 8.2CM POSITIVE GLASS SLIDE
Comments on Subject: THE TITLE, HAND-WRITTEN IN WHITE INK, IS INSIDE THE GLASS, ALONG WITH THE NUMBER 8[?]8. A PRINTED SLIP INSIDE THE GLASS READS: FROM 'HISTORY OF ARCHITECTURE' BY PROFESSOR BANISTER FLETCHER AND MR. BANISTER FLETCHER. NEWTON AND CO., MAKERS, 3, FLEET STREET, LONDON. OUTSIDE, IN ?PENCIL, B B-B [BURTON-BROWN?]. (BURTON-BROWN COLL.).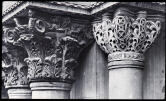 Link to this record using the address https://www.beazley.ox.ac.uk/record/BC5E08F7-42DE-4EDE-9FFF-475887E5A3B2