1817, ITALY, UMBRIA, GUBBIO, PALAZZO DEI CONSOLI
Record Number: 1817
Title on Photograph: GUBBIO
Material: GLASS SLIDE
Site: ITALY, UMBRIA, GUBBIO
Monument: PALAZZO DEI CONSOLI
Image Date: - PROBABLY 1930S (CF. DRESS OF PASSERS-BY, AND CAR)
Comments on Photo: 8.2CM X 8.2CM POSITIVE GLASS SLIDE
Comments on Subject: NO TITLE INSIDE GLASS. 'GUBBIO' HAND-WRITTEN OUTSIDE IN WHITE INK. (BURTON-BROWN COLLECTION).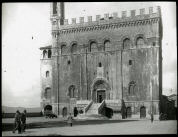 Link to this record using the address https://www.beazley.ox.ac.uk/record/873A63CC-03AE-4127-B779-8707D69CDAA2