1714, ITALY, VENICE, CHURCH OF SAN GIORGIO MAGGIORE
Record Number: 1714
Title on Photograph: (ED.NE ALINARI) P.I.N. 13069. VENEZIA - CHIESA DI S. GIORGIO . (PALLADIO).
Material: GLASS SLIDE
Site: ITALY, VENICE
Monument: CHURCH OF SAN GIORGIO MAGGIORE
Image Date: 1920? COULD BE EARLIER (OR LATER!). FRATELLI ALINARI BEGAN IN 1854, BUT BECAME A PUBLIC COMPANY IN 1920 AND ADDED I.D.E.A. (ISTITUTO DI EDIZIONI ARTISTICHE) TO ITS NAME.
Comments on Photo: 8.2 CM X 8.2 CM POSITIVE GLASS SLIDE.
Comments on Subject: TITLE PRINTED INSIDE: SEE ABOVE. HAND-WRITTEN OUTSIDE: 13069 . [THE REST IS MODERN - B.B.] PRINTED OUTSIDE: SERIE ARTISTICA. FRATELLI ALINARI (I.D.E.A.) ITALIA - 8 VIA NAZIONALE 8 - FIRENZE. (7) (FOR FULL-STOP AFTER 'FIRENZE' CF. 1690,1698,1702,1703,1704,1711,1712,1713,1716, 1717, 1720, 1721).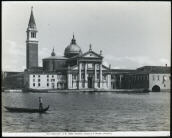 Link to this record using the address https://www.beazley.ox.ac.uk/record/39356A24-AF67-4474-AAE7-E6D9B4B72377