217562, ATHENIAN, Warsaw, National Museum, 198559
Vase Number: 217562
Fabric: ATHENIAN
Technique: RED-FIGURE
Shape Name: PELIKE
Provenance: GREECE
Date: -425 to -375
Attributed To: Manner of LOUVRE G 433, P OF by BEAZLEY
Decoration: A: AMAZONOMACHY, AMAZON IN PATTERNED SUIT ON HORSEBACK WITH SPEAR, WARRIOR, DEVICE, STAR, YOUTH IN PETASOS, CHLAMYS AND BOOTS WITH SPEAR, TREE
B: DRAPED MAN WITH STAFF BETWEEN WOMEN
Current Collection: Warsaw, National Museum: 198559
Publication Record: Beazley, J.D., Attic Red-Figure Vase-Painters, 2nd edition (Oxford, 1963): 1343
Beazley, J.D., Paralipomena (Oxford, 1971): 482
Carpenter, T.H., with Mannack, T. and Mendonca, M., Beazley Addenda, 2nd edition (Oxford, 1989): 367
Corpus Vasorum Antiquorum: WARSAW, MUSEE NATIONAL 3, 12-13, PLS.(249,250,252) 18.1, 19.1-4, 21.1-4 View Whole CVA Plates
Furtwängler, A. and Reichhold, K., Griechische Vasenmalerei (Munich, 1904-32): PL.109.1 (A, B)
Lissarrague, F., Greek Vases, The Athenians and their Images (2001): 108, FIG.87 (COLOUR OF A)
Papanastasiou, A., Relations Between Redfigured and Black-glazed Vases in Athens of the 4th Century B.C., BAR International Series 1297 (Oxford, 2004): PL.3 (A)
Image Credits: FURTWANGLER-REICHHOLD DRAWINGS: Please consult with Williams College Special Collections staff and Williams College Visual Resources Center staff, regarding questions about publishing and accessing materials from Williams College Special Collections. Researchers are responsible for handling any copyright issues that may be associated with collections and materials.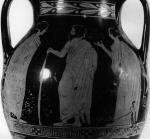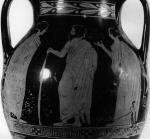 Link to this record using the address https://www.beazley.ox.ac.uk/record/170BC6DC-7082-4BC9-B701-73B0CE083968