Phiale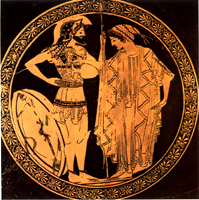 A shallow metal cup of eastern origin, with a slightly rounded base, no handles, and sometimes a central `navel' or boss (`mesomphalic'). It was used especially in rites of libation when the wine in it was spilled on the ground, and is seen carried by women, with a jug for the wine. The shape was sometimes copied in clay and decorated.


Above left: Drawing. John Boardman, The Greeks Overseas, Pg. 68 © John Boardman
Above right: Detail from Athenian red-figure clay vase, about 480 BC. Athens, Acropolis collection 328. © National Museum, Athens.