Niobe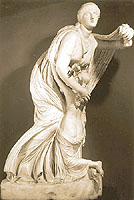 Wife of King Amphion of Thebes. They had a large family (Niobids) and she boasted that she had excelled Leto who had only two children, Artemis and Apollo. For her presumption the twin gods killed all her children. She mourned them and was turned to stone. The killing of the children was a popular motif, known to us on Greek pedimental groups taken to Rome; and a rock formation on Mt Sipylos (Asia Minor) was thought to be the transformed Niobe.


Above left: Plaster cast of marble statue in Uffizi Gallery, Florence. Oxford, Ashmolean Museum Cast Gallery C195. Photo. Ian Hiley © Ashmolean Museum
Above right: Niobe being turned to stone. Detail from South Italian red-figure clay vase c. mid 4th century BC. Sydney. Nicholson Museum of Antiquities 71.01 © Nicholson Museum of Antiquities, Sydney.