Nemean Lion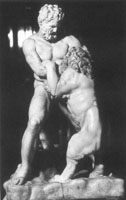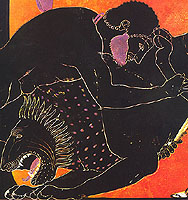 The first
Labour
of
Herakles
was to kill a lion which was terrorising the countryside around Nemea. The lion was impervious to
Herakles
' arrows, so he attacked it with his club, and then strangled it to death. He thereafter wore the lion's impenetrable skin, with its head serving as a form of helmet. In early art he attacks it with a sword. Most representations make the contest like human wrestling, sometimes 'on the canvas', and even throwing the lion over his shoulder.
Above left: Marble statue. St. Petersburg, State Hermitage Museum A498. © State Hermitage Museum. Licence Plate 11 UK 1007 171
Above middle: Hreakles wrestling with lion. Syracuse coin Obv. c.390-380 BC, gold. Berlin. © Kraay and Hirmer pl. VII,129
Above right: Detail from Athenian black-figure clay vase, about 520 BC. Bresica, Museo Civico Romano. © Bresica, Museo Civico Romano.