Medea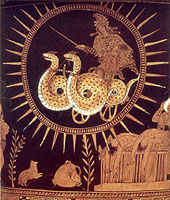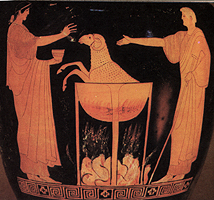 In mythology daughter of King Aeetes of Colchis (modern west Georgia) and often shown in art in oriental dress. She has magic powers and helped Jason to acquire the golden Fleece. She is thus shown on various occasions with the Argonauts (see Talos). She returns to Greece with Jason, escaping Aeetes by killing her own child. En route she rejuvenates Jason's father Iason by boiling him in a pot. She persuades the daughters of Pelias to do the same for their father but sees to it that the magic fails. The boilings are shown in art. Returned to Corinth Jason marries King Kreon's daughter, but Medea poisons her, kills her children, and makes her escape in a chariot drawn by dragons. In Athens she takes refuge with King Aigeus, recognizes his son Theseus when he arrives from Troezen, and tries unsuccessfully to poison him. She is the archetypal oriental witch.


Above left: Detail from Lucanian calyx-crater c. 400 BC. New York Market, Sotheby's © Sotheby's
Above right: Medea and Pelias. Detail from Athenian red-figure clay vase, about 470 BC. London, British Museum E163. © British Museum.