Marsyas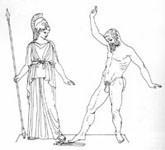 A mythical Satyr figure (shown on the right in this relief) who lived in Anatolia (Turkey) and was especially adept at playing the pipes. He challenged Apollo, who played the lyre, and was defeated and flayed for his presumption. He had picked up the pipes which had been discarded by Athena; a sculpture group in Athens by Myron (known from copies) showed the moment of his discovery of them. In scenes of the contest with Apollo he may be shown playing the lyre, as though converted to the instrument.


Above left: Plaster cast of a statue base relief from Mantinea. Oxford, Ashmolean Museum Cast Gallery D092. © Ashmolean Museum.
Above right: Drawing of restored group of Athena and Marsyas by Myron. Original of about 450 BC. John Bordman greek Sculpture, The Classical Period Fig. 61 © Joihn Boardman.