Labours of Herakles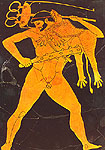 Twelve outstandingly difficult and dangerous tasks performed by Herakles at the command of King Eurystheus of Argos. The gods decreed that Herakles should be subservient to the will of Eurystheus for twelve years, during which time the hero completed all twelve tasks set him by the king. Herakles was rewarded for his success with immortality and a place among the gods.

The Twelve Labours were:
All twelve are occasionally shown in art, as on the metopes of the Temple of Zeus at Olympia, but in later art their order differs and occasionally a Labour is replaced by some other Heraklean episode.


Above left: Detail from an Athenian red-figure clay vase, about 480 BC. Paris, Musée du Louvre C192. © Musée du Louvre, Paris
Above right: Drawing. John Boardman, Greek Sculpture Classical Period, fig.22 (Marion Cox) © John Boardman (Marion Cox)