Ganymede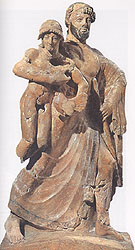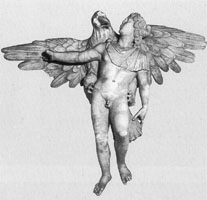 Mythical Trojan prince of great beauty. He is carried off to Olympos to serve a cupbearer to the gods by Zeus or Zeus' eagle.


Above left: Clay group of Zeus carrying off the child Ganymede. From Olympia. c.470 BC. Olympia Museum. Photo: Max Hirmer. © Olympia Museum
Above right: Marble figure. Venice. Museo Archeologico 145. Photo. Soprintendenza Archeologica per il Vento - Padova -2132 © Museo Archeologico, Venice.