Eos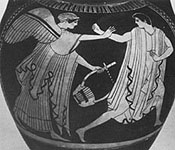 Female personification of Dawn. She was attracted to youths whom she seduces - Kephalos, and Tithonos, for whom she secures immortality but not exemption from ageing. Her child Memnon is killed by Achilles at Troy and she is shown mourning him or bearing his body from the battlefield. She is usually winged.


Above left: Detail from Athenian red-figure clay vase about 500-450 BC. Cambridge Fitzwilliam Museum GR 22.1937 © Fitzwilliam Museum
Above right: Eos carries Memnon. Detail from Athenian black-figure clay vase, about 525-475 BC. New York, Metropolitan Museum 1956.171.25. Fletcher Fund. Photo. Mus. 162057 B. © New York, Metropolitan Museum.