Atlas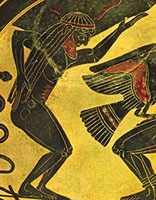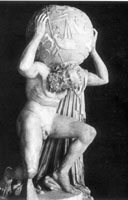 A
Giant
identified by the Greeks as Mount Atlas (in Morocco). The mountain is so high that the Greeks thought the heavens rested on its top, or that Atlas supported the world on his shoulders. Atlas is said to have helped
Herakles
obtain the golden apples of the
Hesperides
, which was one of the
hero
's twelve Labours. He is shown supporting the heavens, shown as a starry block, or later as a globe, and the crouching Atlas becomes an archetypal support figure in art.
Above left: Detail from a Laconian black-figure clay cup, about 530 BC. Rome, Musei Vaticani. © Musei Vaticani Licence Plate 11 UK 1007 121
Above middle: Marble statue. Naples, Museo Archeologico Nazionale 308. Photo. Brogi 5179 © Museo Archeologico Nazionale
Above right: Atlas helping Herakles. Olympia metope No.10. John Boardman Greek Sculpture, The Classical Period Fig. 23.5. © John Boaedman.