The Erechtheion at Athens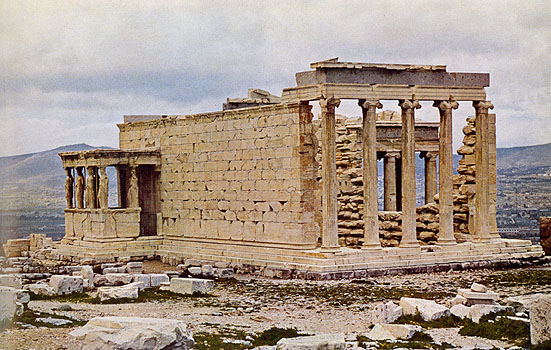 Erechtheion seen from the south-east. Photo M.Hirmer
This temple was built to replace the old Temple of Athena destroyed by the Persians. It was begun in 421 BC, but most of the work was carried out in the years 409-406 BC.
The Erechtheion is unusual in plan, probably because it had to fulfil a number of functions: as well as housing the old cult image of Athena (not the Athena Parthenos), it served the cults of Erechtheus and Poseidon, and in around it were other cult places and objects relating to the earliest history of Athens.
Six Caryatids support the roof of the (false) south porch. Fragments of a frieze which ran round the outside of the building survive, mainly consisting of women of unknown identity; only an Apollo with Omphalos can be certainly recognised. The figures were made of light-coloured Pentelic marble and were fastened to a dark background of Eleusinian marble.