Protoattic
'Analatos hydria'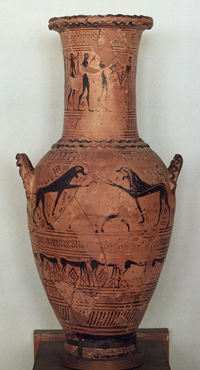 Photograph: J. Boardman,
La ceramique antique
Museum: Athens, National Archaeological Museum
Size: *0.80m
Function: funerary. Three-handled water-pot with elongated neck. The 'snakes' and fretwork handles indicate it was not made for daily use.
Technique: silhouette and outline
Style: Protoattic (Early)
Decoration: male and female mourners (neck), lions confronting a floral (body)
Date: early 7th c.
Analysis: curvilinear floral motifs and lions (largely effaced) are indicators of a new 'Orientalising' style in Athens, whereas the largely silhouette figures (neck) combine the old Geometric silhouette with outline. Branches and pipes suggest mourning.