Corinthian
'Eurytos column-crater'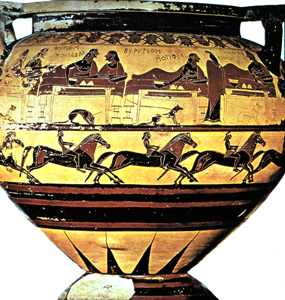 Museum: Paris, Louvre
Size: 46cm (height)
Function: convivial. Mixing bowl (crater), with columnar handle supports, for mixing wine and water.
Technique: black-figure and outline (female skin, some dogs, some couches)
Style: Corinthian (Early)
Subject/s: Herakles in the house of Eurytos, reclining at symposium, with Eurytos' daughter Iole (figures are named); horsemen below.
Date: late 7th c.
Analysis: possibly the earliest visual evidence that the Eastern practice of feasting while reclining (later known in Greece as the symposium) had been introduced into Greece. The crater was exported in antiquity to northern Italy.