20. Seated goddess
See also Isis (10E), identified by a disc crown.
20/1 Sassari 2882, from Tharros (Chessa). Ebers, pl. G 44; NBAS 2 (1985) 195, fig. 1 (Acquaro); Gubel, Furn no. 23; Hölbl, Sard no. 114; F. Briquel-Chatonnet and E. Gubel, Les Phéniciens 124; Along the Routes 78. BL;EXnb. Double crown, holding khnum sceptre, hand raised, sphinx throne; disc and cartouche above; incense-burner.
Other materials
20/X1 Mentioned, AJBA 1 (1968) 60, n.52 (Culican). Cornelian, on gold ring. Goddess.
No image available
20/X2 Beirut Museum 16157, from Sidon, hypogaeum I, late 5th/4th century. Parrot, et al., 110, fig. 115; Gubel, Furn no. 11. Amethyst, on bracelet. Goddess on sphinx throne wearing full (Persian?) dress and a spiky crown (Persian?) holding a papyrus stalk; a female attendant beyond the burner; disc-and-crescent, star, and winged disc above; double ground line.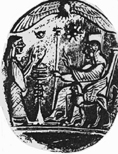 20/X3 Paris, Bibl.Nat., de Clercq no. 2754, pl. 18. Gubel, Furn no. 33. Onyx. BL;EXO; in gold mount. Goddess on lion throne; incense-burner; attendant in long dress; disc, crescent, and winged disc above.