4529, ATHENIAN, Munich, Antikensammlungen, Munich, Antikensammlungen, J774
Vase Number: 4529
Fabric: ATHENIAN
Technique: RED-FIGURE
Shape Name: AMPHORA, NECK
Date: -450 to -400
Attributed To: Perhaps SHUVALOV P by DIEPOLDER
AISON by HAHLAND
Decoration: A: AMAZON (ARCHER)
B: AMAZON ON HORSE
Current Collection: Munich, Antikensammlungen: 2342
Previous Collections:

Munich, Antikensammlungen: J774

Publication Record: BEAZLEY NOTEBOOK: 77, 22.6-23.1
Bothmer, D. von, Amazons in Greek Art (Oxford, 1957): 199, NO.135
Braccesi, L. et al., Veder Greco, le necropoli di Agrigento, mostra internazionale, Agrigento, 2. maggio - 31. luglio 1988 (Rome, 1988): 142-143, NO.29 (A, B)
Corpus Vasorum Antiquorum: MUNICH, MUSEUM ANTIKER KLEINKUNST 2, 13, PL.(265) 69.1-2.7-8 View Whole CVA Plates
Furtwängler, A. and Reichhold, K., Griechische Vasenmalerei (Munich, 1904-32): III, 329, FIG.155, PL.171.3 (A, B)
Giudice, G., Il tornio, la nave, le terre lontane, Ceramografi attici in Magna Grecia nella seconda meta del V sec. a C., Rotte e vie di distribuzione (Rome, 2007): 149, FIG.153 (A, B)
Knauss, F., Die Kunst der Antike, Meisterwerke der Münchner Antikensammlungen (Munich, 2017): 221-222 (COLOUR OF A AND B)
Ohly, D., Geleitwort fur den Besucher (Munich, 1968): PL.46 (A)
Ohly-Dumm, M., Attische Vasenbilder der Antikensammlungen München, I (Munich, 1975): 1, PL.32 (DRAWING OF B)
PHOTOGRAPH(S) IN THE BEAZLEY ARCHIVE: 8 (A, B, PARTS)
Image Credits: FURTWANGLER-REICHHOLD DRAWING: Please consult with Williams College Special Collections staff and Williams College Visual Resources Center staff, regarding questions about publishing and accessing materials from Williams College Special Collections. Researchers are responsible for handling any copyright issues that may be associated with collections and materials.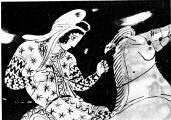 Link to this record using the address https://www.beazley.ox.ac.uk/record/B2D4156F-4640-40E4-8FB3-DCAD2EFE8C3E