1004764, CHALCIDIAN, Munich, Antikensammlungen, 596
Vase Number: 1004764
Fabric: CHALCIDIAN
Technique: BLACK-FIGURE
Shape Name: HYDRIA
Date: -575 to -525
Inscriptions: Named: MOPSOS, KLYTIOS
Attributed To: INSCRIPTION P (Chalcidian) by RUMPF
Decoration: Body: PELEUS AND ATALANTE (BOTH NAMED) WRESTLING OVER SKIN AND HEAD OF CALYDONIAN BOAR BETWEEN MEN, SOME DRAPED, SOME WITH SPEARS, AND WOMAN AND DRAPED YOUTH, SOME NAMED
Frieze below: ANIMAL FRIEZE, BIRD, PANTHERS, SIREN, GOAT
Shoulder: HORSEMEN (HORSE RACE ?), ROSETTES
Under handle: GIGANTOMACHY, ZEUS (NAMED) AND GIANT (TYPHON), HERALDIC LIONS
Current Collection: Munich, Antikensammlungen: 596
Publication Record: Corpus Vasorum Antiquorum: MUNICH, MUSEUM ANTIKER KLEINKUNST 6, 24-26, PLS.(1349-1351) 280.1-2, 281.1-3, 282.1-3 View Whole CVA Plates
Furtwängler, A. and Reichhold, K., Griechische Vasenmalerei (Munich, 1904-32): PLS.31, 32.2
LIMC ID: 2619
Image Credits: FURTWANGLER-REICHHOLD DRAWINGS: Please consult with Williams College Special Collections staff and Williams College Visual Resources Center staff, regarding questions about publishing and accessing materials from Williams College Special Collections. Researchers are responsible for handling any copyright issues that may be associated with collections and materials.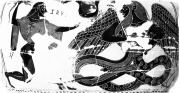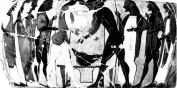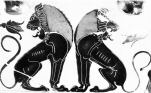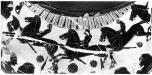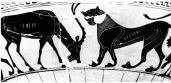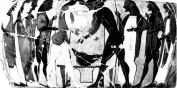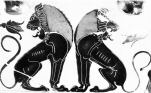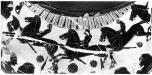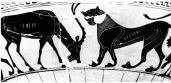 Link to this record using the address https://www.beazley.ox.ac.uk/record/7E387D50-C1B5-4939-956E-BD16F82BB110