206128, ATHENIAN, Florence, Museo Archeologico Etrusco, Florence, Museo Archeologico Etrusco, 3997
Vase Number: 206128
Fabric: ATHENIAN
Technique: RED-FIGURE
Sub Technique: SILHOUETTE (R)
Shape Name: KRATER, COLUMN
Date: -500 to -450
Attributed To: FLORENCE P by BEAZLEY
Decoration: A: CENTAUROMACHY, LAPITHS, ONE FALLEN, CENTAURS WITH TABLE AND VESSEL, WOMAN
B: KOMOS, OLD MAN WITH STAFF, DRAPED YOUTHS, WITH STAFFS, WOMAN
Rim: ANIMAL FRIEZE, BOARS, LIONS
Current Collection: Florence, Museo Archeologico Etrusco: 81268
Previous Collections:

Florence, Museo Archeologico Etrusco: 3997

Publication Record: Beazley, J.D., Attic Red-Figure Vase-Painters, 2nd edition (Oxford, 1963): 541.1, 1658
Beazley, J.D., Attische Vasenmaler des rotfigurigen Stils (Tübingen, 1925): 308.1
Beazley, J.D., Paralipomena (Oxford, 1971): 385
Boardman, J., Athenian Red Figure Vases, The Classical Period (London, 1989): FIG.50 (A)
Bollettino d'Arte: (1997) 101-102, 10, FIG.16 (PART OF A)
Bonacasa, N. (ed.), Lo Stile Severo in Grecia e in Occidente, Aspetti e problemi, Studi e Materiali 9 (Rome, 1995): PL.4.3 (A)
Carpenter, T.H., with Mannack, T. and Mendonca, M., Beazley Addenda, 2nd edition (Oxford, 1989): 256
Castriota, D., Myth, Ethos, and Actuality, Official Art in Fifth-Century Athens (Madison, 1992): 36, FIG.1 (A)
Corpus Vasorum Antiquorum: FIRENZE, REGIO MUSEO ARCHEOLOGICO 2, III.I.41, PLS.(623,627,628) 39.3, 43.1-3, 44.2-3 View Whole CVA Plates
Ellinghaus, C., Die Parthenonskulpturen, Der Bauschmuck eines öffentlichen Monumentes der demokratischen Gesellschaft Athens zur Zeit des Perikles, Techniken in der bildenden Kunst zur Tradierung von Aussagen (Hamburg, 2011): FIG.52 (A)
Esposito, A.M. and Tommaso, G. (eds.), Museo Archeologico Nazionale di Firenze, Vasi Attici (Firenze, 1993): 63, FIG.96 (COLOUR OF A)
Furtwängler, A. and Reichhold, K., Griechische Vasenmalerei (Munich, 1904-32): PL.166.2 (A, PART OF R)
Heydemann, H., Mittheilungen aus den Antikensammlungen in Ober- und Mittelitalien (Halle, 1879): PL.3.1 (A)
Kistler, E., Funktionalisierte Keltenbilder, die Indienstnahme der Kelten zur Vermittlung von Normen und Werten in der hellenischen Welt (Berlin, 2009): PL.18.4 (DRAWING)
Kressirer, K., Das Greisenalter in der griechischen Antike. Untersuchung der Vasenbilder und Schriftquellen der archaischen und klassischen Zeit (Hamburg, 2016): 882, NO.1272 (PART OF B)
Lexicon Iconographicum Mythologiae Classicae: VII, PL.662, THESEUS 266 (A)
Milani, L., Il R. Museo archeologico di Firenze (Florence, 1912): PL.42.3
Muth, S., Gewalt im Bild, Das Phänomen der medialen Gewalt im Athen des 6. und 5. Jahrhunderts v. Chr. (Berlin, 2008): 505, FIG.368 (DRAWING OF A)
Pfuhl, E., Malerei und Zeichnung der Griechen (Munich, 1923): FIG.489 (A)
Rizza, G. (ed.), I vasi attici ed altre ceramiche coeve in Sicilia, Atti del convegno internazionale (Catania): II, 150, FIGS.13-14 (A, B)
Rutter, K.N. and Sparkes, B.A. (eds.), Word and Image in Ancient Greece (Edinburgh, 2000): 198, FIG.10.7 (A)
Schefold, K. and Jung, F., Die Urkönige, Perseus, Bellerophon, Herakles und Theseus in der klassischen und hellenistischen Kunst (Munich, 1988): 264, FIG.314 (A)
Schultz, P. and von den Hoff, R. (eds.), Structure, Image, Ornament: Architectural Sculpture in the Greek World Proceedings of an international conference held at the American School of Classical Studies, 27-28 November 2004 (Oxford, 2009): 149, FIG.12.22 (A)
Servadei, C., La figura di Theseus nella ceramica Attica, Iconografia e iconologia del mito nell' Atene arcaica e classica (Bologna, 2005): 145, FIG.57 (A)
Siftar, L., Das Phänomen der unvollständigen Gestalt in der griechischen Kunst: Unterschiedliche Facetten eines besonderen Darstellungsmittels (Heidelberg, 2018): 204, FIG.11.4 (A)
Image Credits: FURTWANGLER-REICHHOLD DRAWING: Please consult with Williams College Special Collections staff and Williams College Visual Resources Center staff, regarding questions about publishing and accessing materials from Williams College Special Collections. Researchers are responsible for handling any copyright issues that may be associated with collections and materials.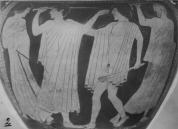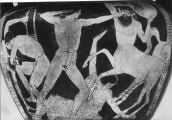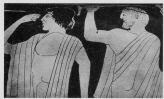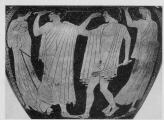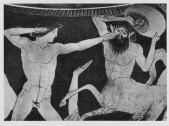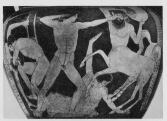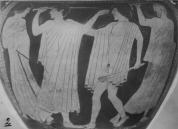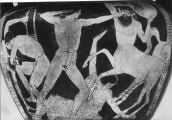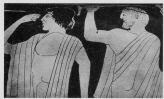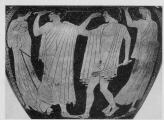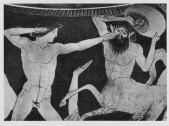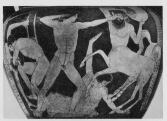 Link to this record using the address https://www.beazley.ox.ac.uk/record/678046A3-AF2D-4346-8349-E912F67D29BC