Cast Gallery catalogue number: C006a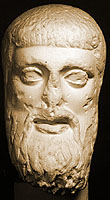 Head of Aristogeiton, one of the two Tyrant-slayers.
For another copy of the head see C006b; for the whole figure see C005b; for the other Tyrant-slayer see C005a.
Plaster cast: Height: 34cm.
Copy of the head of a marble statue from the group known as the Tyrannicides or Tyrant-slayers.
The group:
The head:

was discovered in the storerooms of the Vatican in 1922 by Amelung.
is now in Rome, Museo Conservatori, Bracchio Nuovo, inv. 2404.