Cast Gallery catalogue number: B140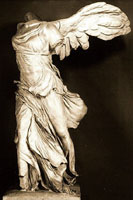 Nike.
Plaster cast: Height: 2.95m.
Copy of a marble Nike.
The statue:

was made sometime between 300 and 200 BC.
is from the Sanctuary of the Great Gods at Samothrace.
was found on Samothrace (an island in the north Aegean) in 1863.
is now in Paris, Musée du Louvre, 2369.