Cast Gallery catalogue number: B082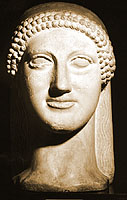 Head of a goddess made for insertion into a statue, perhaps the cult-statue of a Greek shrine in Sicily or south Italy.
Plaster cast: Height: 83cm.
Copy of a marble head.
The head:

is an original of about 480-470 BC, made in Sicily or south Italy.
was formerly in the Ludovisi collection.
is now in Rome, Museo Nazionale delle Terme, inv. 8598.