Cast Gallery catalogue number: B072a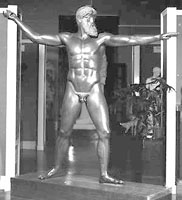 Zeus, with left arm outstretched, and arm drawn back to throw an object now missing, probably a thunderbolt. Some believe the figure to be that of Poseidon, with a (missing) trident.
Plaster cast: Height: 2.01m.
A bronze cast of an original bronze statue.
The bronze statue:

was made about 460-450 BC.
was retrieved from an ancient shipwreck off Cape Artemisium, the most northerly point of Euboea, in 1926 (an arm) and 1928 (the rest of the statue).
is now in Athens, National Museum, Br 15161.