Cast Gallery catalogue number: E009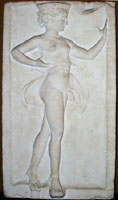 Woman dancer wearing a short dress and basket-shaped headdress; see also E010.
Plaster cast: Height: 82cm, Width: 57cm.
Copy of a marble relief.
The relief:

is a version of a 5th century original.
was purchased for Berlin in 1892 in Florence.
is now in Berlin, Antikensammlung, inv. 1456.