Cast Gallery catalogue number: D106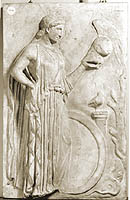 Plaster cast: Height: 73 cm, Width: 46 cm.
Copy of a marble relief.
The relief:

is a version of an original of the late 5th century BC.
was formerly in the Lansdowne Collection, 59.
is now in Copenhagen, Ny Carlsberg Glyptothek, inv. 2802 (acquired in 1930).