Cast Gallery catalogue number: D095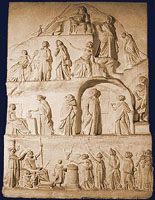 At the top Zeus and, below on two levels, Mnemosyne with the nine Muses, and Apollo, to the left under the archway. At the bottom, Homer receives a sacrifice from a group of literary personifications: Myth, History, Poetry, Tragedy, Comedy. At the middle right, a statue of a victorious poet.
Plaster cast: Height: 1.16m.
Copy of a marble relief.
The marble:

is known as the Archelaos Relief.
dates from the late 3rd or 2nd century BC.
Homer from a prize-winning poet.
was found at Boville in central Italy in the mid 16th century.
was formerly in Palazzo Colonna until 1819.
is now in London, British Museum, 2191.